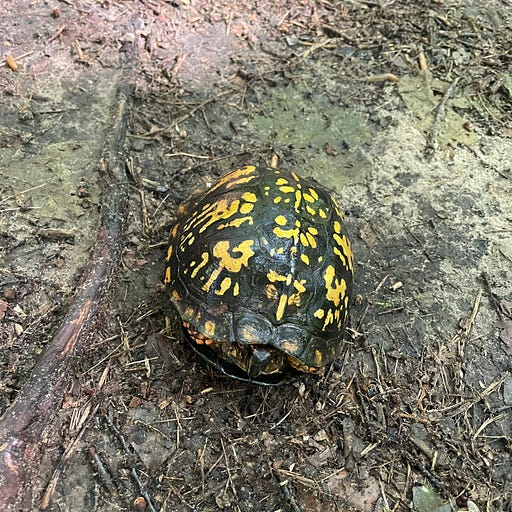 Jul 19, 2022 • 2M
Chit-Chat Check-In #41: Ever Heard of a Mountain Bike?
These posts will be mostly presented as audio files. In most cases it'll be just me giving you a little update (i.e. where I am, how things are going, etc.) I hope to also have some Chit-Chat Check-In with other people I'm around (i.e. bandmates, friends, family, strangers — and hopefully the occasional check-in will be with some of you Starship Casual clients, too.)
Hey bud, your sun-dappled disguise ain't gonna help you much if you're lounging in the middle of the trail. Ever heard of a MOUNTAIN BIKE?! I think if I'm afraid of them you should be too.
This guy too! Right in the middle of the road. Insanity!
★★— Just ok. We were looking for a sunset and this is all we could find. Prompt service (as advertised). Still missing something… a few more clouds maybe? Too orange-y? Would still recommend in a pinch.
---
This Week In Wilco, Etc.
2015 / July 16: Star Wars is announced and released digitally the same day. CD and LP configurations roll out in the fall. The LP configuration includes a bonus download of the Pitchfork Festival live set that was recorded the next day. 
2002 / July 23: Wilco plays The Pageant in St. Louis. This 22-song set will be released as part of the Yankee Hotel Foxtrot deluxe and super deluxe reissues on September 16, 2022. 
2012 / July 23: Wilco plays Celebrate Brooklyn at Prospect Park in Brooklyn, NY.  The entire 27-song set is released as Roadcase #3.