Less Than You Think (solo)
I wanted to try something off of A Ghost is Born because it was mentioned in TWIW. So down below, behind the paywall, is my stab at recreating "Less Than You Think", complete with a noise coda using only the stuff I had at my fingertips: a phone (voice memo app), an acoustic guitar, and an Op-1 keyboard.
The end result reminds me of the paintings Steve Keene does of album covers. In fact, I guess I was also inspired by seeing some of his Wilco album jacket recreations recently (pictured above). There's an energy to all of his work that I relate to. The urgent desire to do your best within narrow criteria and a limiting process is an approach I've always been drawn to. I like it when potential is still visible in a work of art, un-exhausted. I love it when the painting or song is still in motion towards something infinitely far away. When a work of art stands in front of you and says "here I am…I'll never be finished and yet… here I am beautiful in this not fully realized state."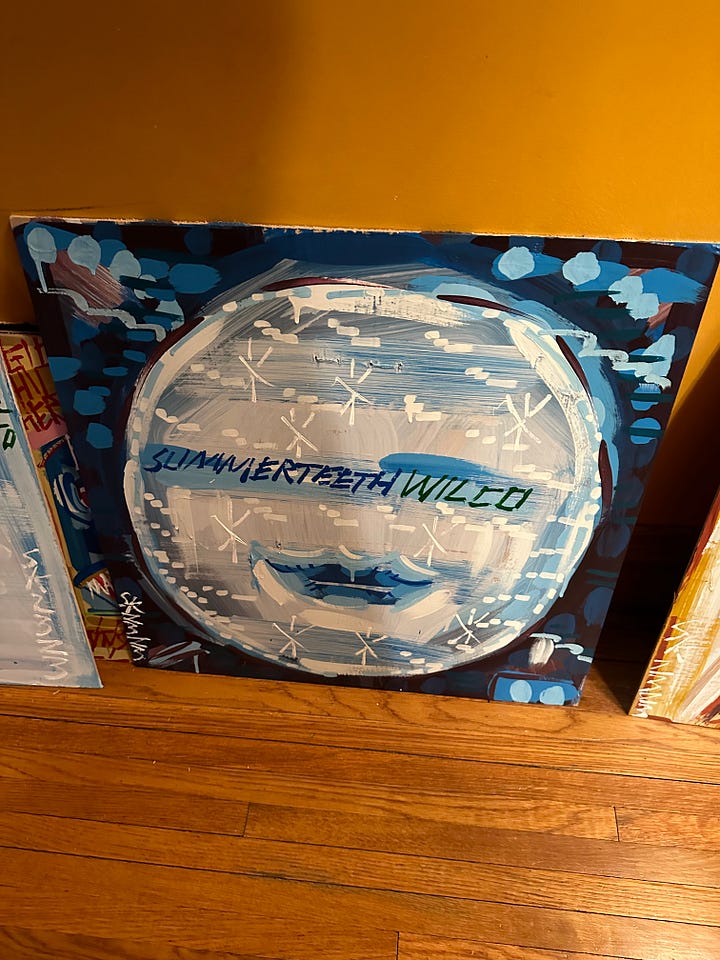 The best stuff always radiates more to come. It gives me hope. This is all to say that I did my best with what was nearby, in one take, to recreate from memory a song that is about itself. And now it is a recording of a song that is about a recorded song. OxO
This Week In Wilco, Etc.
2005 / February 13: At the 47th Annual Grammy Awards, Wilco wins the Best Alternative Music Album for A Ghost Is Born.
2011 / February 13: Six years later, at the 53rd Annual Grammy Awards, Jeff and Mavis Staples win Best Americana Album for You Are Not Alone.
2016 / February 17: Wilco plays the Avalon Ballroom in Boston, MA. The 23-song set includes three different versions of "Box Full of Letters"—a slow country version, a polka version, and a Beck-inspired version.
Keep reading with a 7-day free trial
Subscribe to Starship Casual to keep reading this post and get 7 days of free access to the full post archives.